Certified Yoga Instructor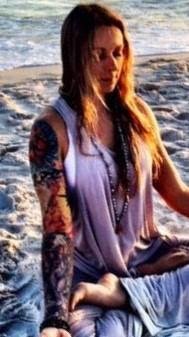 Christina began a consistent yoga practice in 2011; she fell in love immediately, knowing that this was her path. This began her life long journey of exploration into the many avenues of spiritual and meditative movement practices. She would attend every workshop and convention that came into town, in order to expand her knowledge. She has practiced several lineages, to include Yin, Restorative, Vinyasa, Hot Sequence, Ashtanga, Kundalini, and Universal Yoga. She has been influenced by a wide range of amazing teachers. She graduated YTT 200hr at Ember Yoga under the guidance of Meredith Hesse and Marie Bilthouse in May 2018.
Christina is a USMC veteran and earned her Bachelors degree in Biology with a concentration on the human body and psyche. She left the corporate world in October 2018 to answer the call of Spirit to pursue this path fully.
She has a calm demeanor and her teaching reflects a deep reverence for the knowledge that has been passed down to her. She believes in the path of surrender and devotion to reach our true nature. She has practiced Tai Chi and Qi Gong, and likes to incorporate those movements into her teaching. She is an avid student of energy work and meditation. She holds energetic space for the practitioners and looks to leave them feeling expanded, balanced, and serene.
" Practice that is done for a long time, without break and with sincere devotion becomes a firmly rooted, stable, and solid foundation." Yoga Sutras 1.14