Our Hatha Yoga instructor Michelle Hardie believes Yoga is an amazing practice… life changing.
Her students have commented:
"After my 1st class I slept through the night for the first time in years."

"I've never felt better"

"I can now drive to work without road rage."

"When I couldn't do anything else, I would do the poses and I was able to make it thru another day."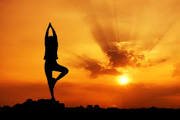 These are very diverse statements, just as yoga is a very diverse practice. Each Class we focus on a different set of poses.
For example, we can focus on standing poses.
Standing poses are the foundation for many poses.
They increase strength and flexibility; they help increase balance both mentally and physically and improve posture.
We encourage you to join us on any of these days or evenings.
It's always a fun, joyful class.
Our Class Schedule is:
Monday 9.30 – 10.30 am is Hatha Yoga – with Jeff
Monday 6.00 – 7.00 pm is Hatha Yoga, Iyengar Style Focus – with Michelle
Wednesday 9.30 – 10.30 am is Hatha Yoga – with Michelle
Wednesday 7.00 – 8.00 pm is Hatha Yoga – with Michelle
Thursday 6.00 – 7.00pm is Hatha Yoga – with Jeff
Saturday 9.30 – 10.30 am is Hatha Yoga – with Michelle
$15 to drop-in OR
$55 for a 5 Class Card ($11/class)
$150 for a 15 Class Card ($10/class)
Monthly UNLIMITED classes, $79
Call 770.704.9950 to Sign Up for our next class