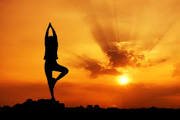 Each Class we focus on a different set of poses.
For example, we can focus on standing poses.
Standing poses are the foundation for many poses.
They increase strength and flexibility; they help increase balance both mentally and physically and improve posture.
We encourage you to join us on any of these days or evenings.
It's always a fun, joyful class.
Our Class Schedule is:
Monday 9.30 – 10.30 am is Hatha Yoga – with Jeff
Monday 6.00 – 7.00 pm is Hatha Yoga, Iyengar Style Focus – with Jeff
Wednesday 9.30 – 10.30 am is Hatha Yoga – with Brittany
Wednesday 7.00 – 8.00 pm is Hatha Yoga – with Brittany
Thursday 6.00 – 7.00pm is Hatha Yoga – with Jeff
Saturday 9.30 – 10.30 am is Hatha Yoga – with Brittany
$15 to drop-in OR
$55 for a 5 Class Card ($11/class)
$100 for a 10 Class Card ($10/class)
$135 for a 15 Class Card ($9/class)
Call 770.704.9950 to Sign Up for our next class