ALL CLASSES CANCELLED THROUGH MARCH,
WILL BEGIN AGAIN IN APRIL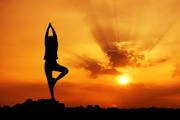 Each Class we focus on a different set of poses.
Standing poses are the foundation for many poses, and many classes are a combination of slow flow, strengthening, and restorative poses.
They increase strength and flexibility; they help increase balance both mentally and physically and improve posture.
We encourage you to join us in any of our classes.
Yoga Classes
On-going Yoga classes (1 hour classes)
Monday 9:30 am – Hatha Yoga, w/Rachel
Monday 6:15 pm – Hatha Yoga w/Jennifer
Tuesday Noon – Yoga w/Massiel
Wednesday 9:30 am – Hatha Yoga w/Jeff
Thursday 6:15 pm – Hatha Yoga w/Jeff
Saturday 9:30 am – Hatha Yoga w/Mayuri
Every 4th Sat. of each month is Yin Yoga w/Mayuri
You are never too old, too tired, or too out of shape to begin yoga
$17 to drop-in
$55 for a 5 Class Card ($11/class)
$100 for a 10 Class Card ($10/class)
$135 for a 15 Class Card ($9/class)
$200 for a 25 Class Card ($8/class)