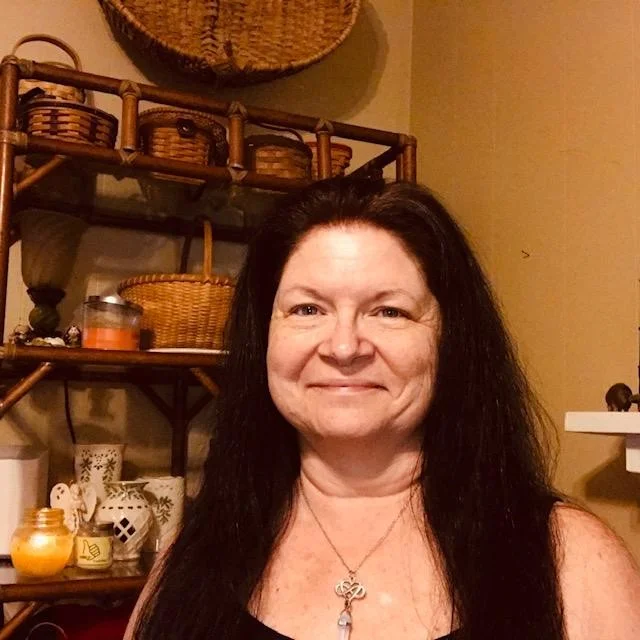 About Kim
Kimberly is honored to offer her services as a Tarot Reader, Reiki Master/Instructor, and Akashic Records Guide to anyone who is in need of guidance, clarity, and healing. She is descended from several generations of gifted Intuitives and Reiki Masters and has been led to honor the path previously travelled by her ancestors.
SOUND THERAPY SESSIONS (NEW)
Kim is excited to offer vibrational sound therapy sessions for individual and group sessions, as well as multi-session packages. Vibrational Sound Therapy (VST), combines direct vibrations and tones through a variety of means to help relax, restore and rejuvenate your mind, body and spirit. The vibration of the bowls, coupled with the focusing of attention on the tones, allows you to immerse yourself into a meditative state and deep relaxation. Muscles become less tense, and you may even slip into an alpha brain wave pattern. This brain wave pattern is associated with daydreaming and pre-sleep. During your session you will be immersed in the healing sounds and vibrations of crystal singing bowls, tuning forks, and solfeggio tones allowing you to achieve a meditative state and deep relaxation. You are encouraged to bring any items that will help you relax such as blanket, pillow, yoga mat or bolster.

30 Minute sessions – $45.00
60 Minute sessions – $75.00
30 Minute 3 session package – $120.00

PRIVATE SMALL GROUP SOUND BATH
These small group sessions for up to 4 people who know each other enable you to feel safe in this space. Sessions are tailored just for your small group. This is a great way for couples, families, or friend groups to relax, heal, and find a peaceful balance together.
60 min session/$45 pp up to 4 people
TAROT READING SESSIONS
For those who feel that they are at a crossroads in their life, or may have questions about love, career, finances, or a major decision that needs gentle guidance and clarity, Kimberly offers Tarot Reading sessions that are an hour in duration. Cost: $70
REIKI MASTER SESSIONS
Kimberly is a Reiki Master and affiliate member of The International Center for Reiki Training (ICRT). She is committed to working with you to identify your unique needs and helping to restore the healthy, natural flow of energy for focus, stress relief, and a sense of well being. Cost: $70, hourly
AKASHIC RECORDS GUIDE
Akashic Records are the story of our lives through our thoughts, our deeds, and our interactions with the rest of creation and has an effect on us through each of our lifetimes. Kimberly is here to help you to work through patterns and blockages that hold you back from experiencing your full potential for growth, joy, harmony and direction in your journey through this life. Cost 1 and 1/2 hrs $125
Kimberly also works as a Shop Attendant some days throughout the week. Please come get to know her. She's a lovely person and very helpful with your needs.