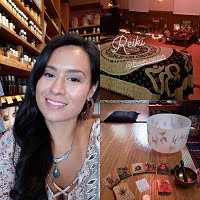 She graduated from Lincoln tech in 2012 with her Associates degree in both
Health Science and Medical Assisting. She worked at an Aesthetics office in
Atlanta gaining experience as a surgical tech. Mossy decided to follow her
passion in holistic medicine. She started working at Innovative Health and
Wellness in March 2013. She learned how to become a front and back office
medical assistant.
Massiel has studied Hypnosis for the past year with Martin Baratz. She
states hypnosis found her after a tragic event in her life 9 years ago.
"Hypnosis changed my life because it taught me how to cope" states Massiel.
The mind is really powerful and a great tool. We have the choice to stay
in pain or use pain as a tool for the power to heal. She also learned about
Reiki healing the same year! Massiel recently became a Reiki level 2 healer
through Jeff Jacobs in Marietta, Georgia. She strives to facilitate
healing for those who want the help. She works at festivals, Innovative Health and Wellness and the Herb Shop * Healing Center. Massiel enjoys spending time camping with her 10 year old son, attending music festivals,
performing fire hooping and practicing yoga. Her intentions are to help
others on a spiritual level along with assisting them live a healthier life.
Her goal is to open a spiritual awareness camp in North Georgia. The camp
will provide a healing space with mindful workshops for people in search
of a higher consciousness.
Healing Sessions
2nd level Reiki Practitioner on the path to Mastery. A facilitator of change via yoga, meditation, hypnosis, ceremony, and hands on energy/body work.
In her role as ceremonial leader she incorporates crystals, oils, sacred sound bath, incense, mantra, breath work and other various modalities to assist in healing, cleansing and re-balancing/grounding all energy and body systems for peak performance and functionality.
All sessions leave clients with tangible tools to maintain the higher level of
functioning and consciousness achieved during her healing sessions.
ONLY AVAILABLE ON SATURDAYS
1 hour Reiki: $75
1 hour Reiki , Hypnotherapy; Sound Healing; and EFT $100
1 hour Reiki & Bodywork w/oils & Sound Healing $100
1 hour Thai Massage $75
Private Yoga Sessions: $60