When:
April 23, 2017 @ 4:00 pm – 5:00 pm
2017-04-23T16:00:00-04:00
2017-04-23T17:00:00-04:00
Gentle Thunder RETURNS from Mount Shasta, California!
2 CONCERTS HONORING EARTH DAY
April 22 & April 23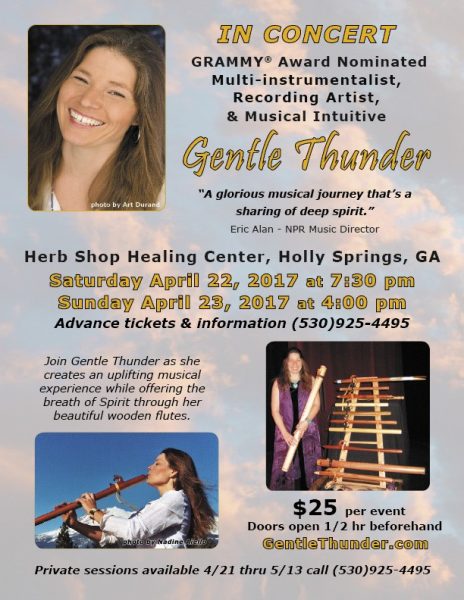 Sunday April 23rd at 4pm
GENTLE THUNDER IN CONCERT HONORING OUR MOTHER EARTH
Gentle Thunder is a GRAMMY® award nominated artist for her album
Beyond Words with Will & Amo (nominated for  Best New Age album  alongside Enya, Peter Kater, Andreas Vollenweider and Enigma) Gentle Thunder will create an intimate uplifting musical experience as she offers the breath of Spirit through her flutes. She will be playing 14 extraordinary Native American flutes, piano and a bit of light percussion. Gentle Thunder will share about her extraordinary flutes and a few personal stories from her travels to serenade our beloved Earth Mother.
 Concerts are $25 per event
ADVANCE ticket purchase is recommended due to a certain number of seats available. Doors open 1/2 beforehand.
Gentle Thunder is also available for PRIVATE Vibrational Alignment Sessions and Flute Lessons while in the area April 20 thru May 13th.
In a private vibrational alignment session she will play music that is "soul specific just to you" and record the session so you have that personal soundtrack to revisit. We will co-create sacred space, set intentions, you lie down, relax and breathe deeply. Gentle Thunder will intuitively "tune in" and create a healing harmonic field through the music played that reflects your spirit essence. This opens the space for our higher intelligence of our bodies to release, recalibrate, restore and rejoice! This is an opportunity to release anything that no longer serves us and allow ourselves to journey home to our authentic selves.
(2 hour Session)
Individual vibrational alignment session: $200
__________________________________________________________________________________________
Individual flute lesson  (no musical experience or flute needed)
In a private flute lesson we create a safe space to clear any old stories or wounds you have in regards to your creativity and relationship to music. We work with clearing judgement and comparison. You meet your inner flute player and then we move into playing the flute together. You will learn techniques needed to be able to make your own music and let your heart sing out through the flute!
I have 2 matching flutes I teach with and so no flute needed yet bring your flute if you have one. I will check to make sure it is set up correctly and in tune.
(2 hour lesson)
Private flute lesson $150
Call  530-925-4495 or email  GT@GentleThunder.com to book an appointment.
Feel free to visit http://www.GentleThunder.com  for video and sound samples. Her CD titles will be available for purchase at these events.
______________________________________________________________________________________
Here's what others are saying about Gentle Thunders music, individual sessions and flute lessons:
Sally Parsons says…

"I received a private flute lesson from Gentle Thunder and was totally amazed at how she was able to bring the flute player out in me. I wasn't sure the flute was something I was able to play, but through her guidance in a deep, meditative look inside, I found the magical flute player that was so anxious to surface, and DID! Even if you have had NO previous musical background, Gentle Thunder, through her incredible way of teaching, can bring the flute into your soul. Then, you don't want to put it down!  It has brought me such balance, deep peace and JOY. Thank you, Gentle Thunder!"
Wall Street Journal's Jim Fusilli says…

"…music that is direct and organic!"

Iris Bolton says…

"Gentle Thunder is an incredible musical intuitive sound healer.  My session with her was so life-enhancing and brought great clarity. Her music, words and presence are deeply nourishing. Give yourself the gift of her magic!" 
The Whole Music Experience, Patricia Herlevi says…

"I have listened to and reviewed hundreds of recordings over the years, and as far as healing music recordings go, Gentle Thunder's CD Opening the Gate leaps to the top of the list. These days it's crucial to lift your vibration and this recording will do just that."

Lois Zellman says…

"I have experienced group and individual in person and phone sessions with Gentle Thunder. Each are an incredible experience of alignment with my deepest self. It is an amazing liberating and freeing experience. One which I will continue to come back to time and again as each time leaves me changed and connected to my true self."
Chris Leeds says…

"During my session I experienced a strong clearing and deep coming home to myself." 

Sue Blondell says…

"I highly recommend the work of this gentle, talented, and powerful woman. In her deep desire to be of service to the Divine she offers a way, through the personalized music of her exquisite array of flutes and hammer dulcimer, that helped me manifest my intention to heal what needs to be healed and to release what no longer serves me in this life. I am changed!"